Star Renewable Energy Director named as finalist for The Champion of Renewables Award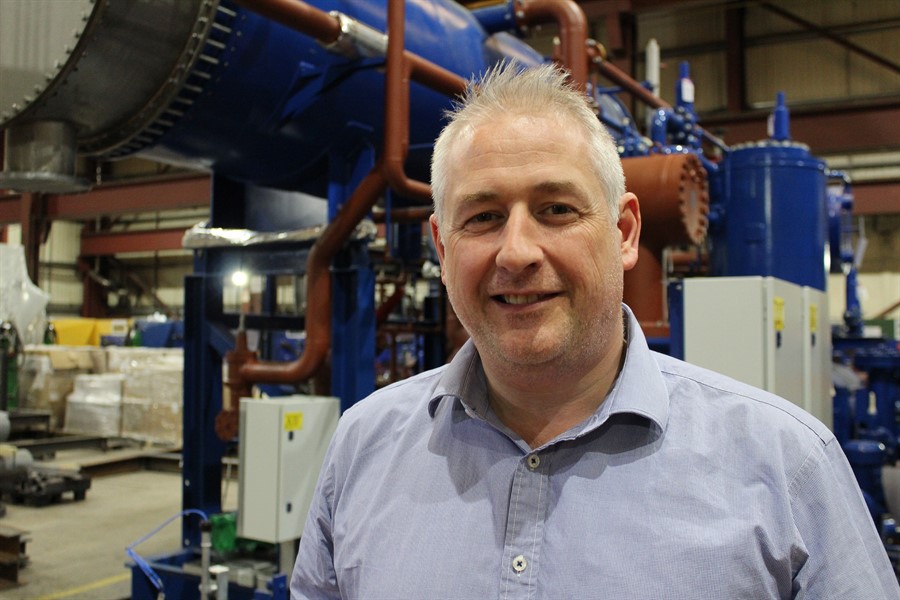 Heating expert and heat pump advocate Dave Pearson has been named as one of four nominees shortlisted from among 100 entries for the esteemed Champion of Renewables Award at the upcoming Scottish Green Energy Awards 2019. The ceremony is scheduled to take place on December 5th in Edinburgh.
The nomination represents an acknowledgement of Dave's ongoing dedication to the renewable heating sector, where he has worked closely with key figures in the industry, policy makers and non-governmental bodies to help bring about positive change, championing the advantages of low carbon heat pump technology to meet Scotland's net zero carbon targets.
As a prominent figure in the world of 'clean heat', Dave calls for solid and implementable change to discontinue fossil fuel consumption and the establishment of A FAIROPOLY in every UK city to create NetZero cities.
Currently, he is working to deliver the largest water-source heat pump in Scotland, as part of the £250 million regeneration project of Queens Quay, Clydebank. The heat pump will take heat from the chilly water of a nearby river to deliver hot water and heating to over 1,000 new homes and businesses.
Dave Pearson, Director of Star Renewable Energy (SRE) said, "I am honoured to be nominated for the Champion of Renewables Award. Events like the Scottish Renewable Awards are a great way to celebrate the renewables energy industry's achievements and its contribution to Scotland's low carbon future."
"My primary focus is on promoting greater understanding of heat pumps and its practical applications. Heat pumps are singularly the only investible and proven technique of delivering NetZero carbon, zero local NOx heat into our cities at operating costs anywhere close to gas. All other techniques fail due to combustion emissions, reliance on unproven solutions or base inefficiency. The sooner we focus on removing barriers such as non-domestic rates, planning inequalities and raise awareness, the sooner we will see large heat pumps support the growth in clean electricity by bringing consumption flexibility on a large scale and moving forward in our urgent quest."
"We must see the establishment of a FAIROPOLY in all cities. A Fairoploy is basically a bi-lateral promise that consumers will buy clean heat if it is provided at a fair price and hence developers will have enough surety to invest in the infrastructure and hence swap imported gas and all its emissions for local jobs and clean heat. I cannot imagine a city being able to force a building away from gas without offering a simple and fair alternative. So let's get working out the detail of a Fairopoly."
Since 2009, as Star Refrigeration- Director of Innovation, Dave was heavily involved in pushing the conversation about renewable heating forward. Frequently speaking at major events in UK and Europe, Dave highlights the essential role of heat pumps in addressing climate change and aiding economic growth through the creation of jobs in the renewable sector.
Dave also writes extensively about the benefits of heat pump deployment in society's present and future to fight the biggest challenge of 'clean heat'. His views are certainly not more "fluff" but a solid call to arms to help tackle the forgotten challenge.
As part of a team within Star that have secured projects to deliver nearly 50MW of heating up to 90°C, he has been pushing boundaries with projects that defied current engineering thinking such as the development of the world's largest 90°C heat pump using ammonia – a natural refrigerant- as a working fluid, and the use of combined district heating, cooling and desalination.
The potential for large scale heat pumps is enormous; heat pumps extract heat from rivers, lakes, sea water, mineshafts, aquifers, air, ground or even industrial waste streams to generate clean, affordable heat for entire cities or industrial processes. Furthermore, according to figures provided by the International Renewable Energy Agency (IRENA), using this type of technology to aid decarbonisation of the global energy system can grow the global economy and create up to 28 million jobs in the sector by 2050.
The Scottish Green Energy Awards is a landmark event in the Scottish renewable energy industry's calendar. Organised by Scottish Renewables, the annual awards which will see 44 individuals, companies and projects vie to scoop awards in 12 prestigious categories at a 1,200-guest ceremony on 5 December 2019 at Edinburgh International Conference Centre.
For more information  about The Scottish Green Energy Awards 2019 or to book, visit their website here.
For more information about Fairopoly, visit their website here.