Star Renewable Energy provides Scotland's largest water source heat pump for district heating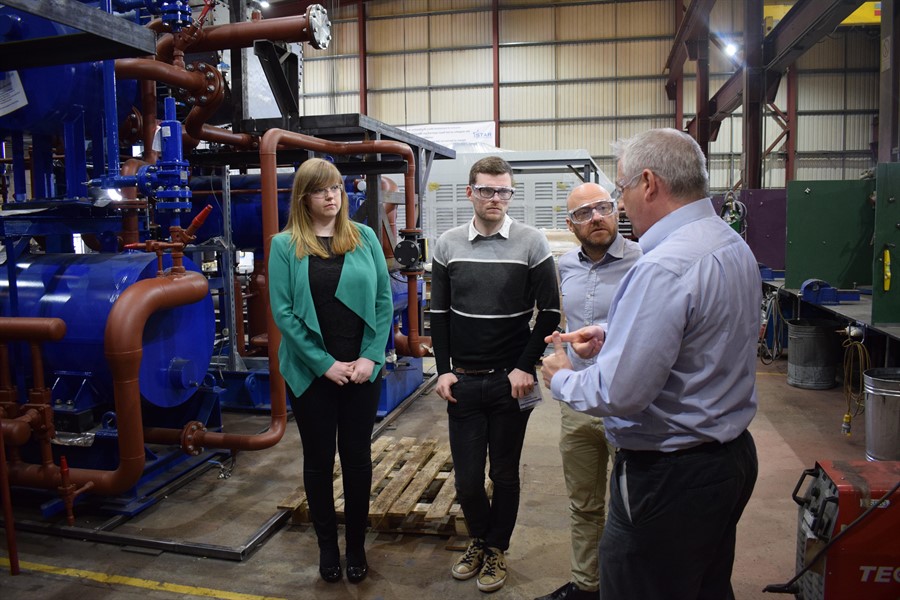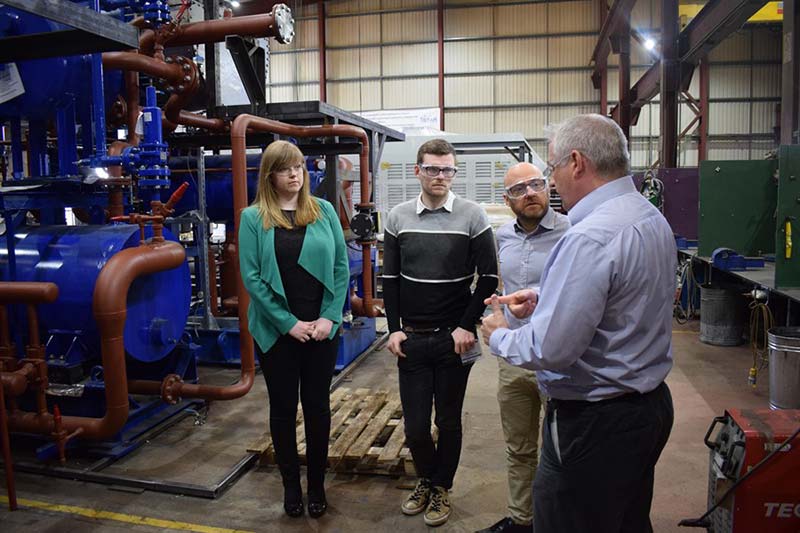 Star Renewable Energy welcomed local politician Patrick Harvie to the site last week to view its recently completed twin water source heat pump to be used at the £250m Queens Quay regeneration project. Due to be installed in September, this is one of the UK's most exciting and pioneering energy projects, delivered by Vital Energi.
With recent plans for regeneration in the Clydebank area, and planned development for new houses and businesses, it was decided by the West Dunbartonshire Council that this would be the ideal time to install a district heating system. This low carbon, low emission solution, is a great alternative for heating buildings and excellent forward planning by the Council, as it was recently announced that gas boilers will be banned in new homes from 2025.
The industrial district heat pump will also significantly contribute to the target of reducing CO2 emissions by 25% over the next seven years.
Dave Pearson, Star Renewable Energy Director, said, "This is Scotland's first large scale water source heat pump scheme, set to provide district heating for homes, business and public buildings such as the Town Hall, West Scotland College and Clydebank Library. It was excellent to welcome Patrick Harvie to view our Glasgow manufacturing facility and receive his support for these ground-breaking renewable heat projects. The heat from these units will be over 60% lower carbon than burning gas and 100% less local NOx".
The 5.2 MW heat pumps take water from the River Clyde and use it to deliver heating and hot water as part of a district heating system – which is three times more efficient than gas boilers. The technology uses ammonia, a natural refrigerant, offering zero global warming potential and zero ozone depletion.
Patrick Harvie, Green MSP for Glasgow, said:
"Decarbonising how we heat our homes and buildings is an absolute must-do if we're to play our part in tackling the climate emergency – but it's also a huge opportunity. That's why we're calling for massive public investment in a jobs-rich Green New Deal, which will mean rethinking how our economy works so it's fairer and more sustainable.
"Delivering this ambition – which has support across the political spectrum – would mean rapidly scaling up the use of proven technology used by companies like Star Renewables so we can end our reliance on fossil fuels."
Not only is this renewable source of energy more efficient, it also offers a lower price point than fossil fuels with an ability to consume off-peak electricity and store the heat generated. The initial cost of installing the equipment has been supported by West Dunbartonshire Council and the Low Carbon Infrastructure Transition Program (LCITP). The heat pump will also receive the Renewable Heat Incentive once operational.
Mr Pearson added, "In Scotland we are incredibly lucky to have rivers, lochs and coastlines which can be utilised as a renewable source of energy and heat. The Clyde catchment area is a 4000 square km solar collector utilising gravity and rainfall to deliver this source energy directly into the cities where heat is needed most. We hope that this ambitious project will pave the way for many more water source heat pumps as part of a national and international reaction to climate change."
The Queens Quay regeneration development includes over 1,000 new homes. These residents will be some of the first to benefit from this lower cost, low carbon heat, by the end of the year.
Find out more about the first large-scale water source heat pump scheme of its kind in Scotland by visiting stand C28 in the energy efficiency and heat zone at All Energy 2019 on 15th & 16th June.