Star Refrigeration wins the Net Zero Achievement Award at the Glasgow Business Awards 2021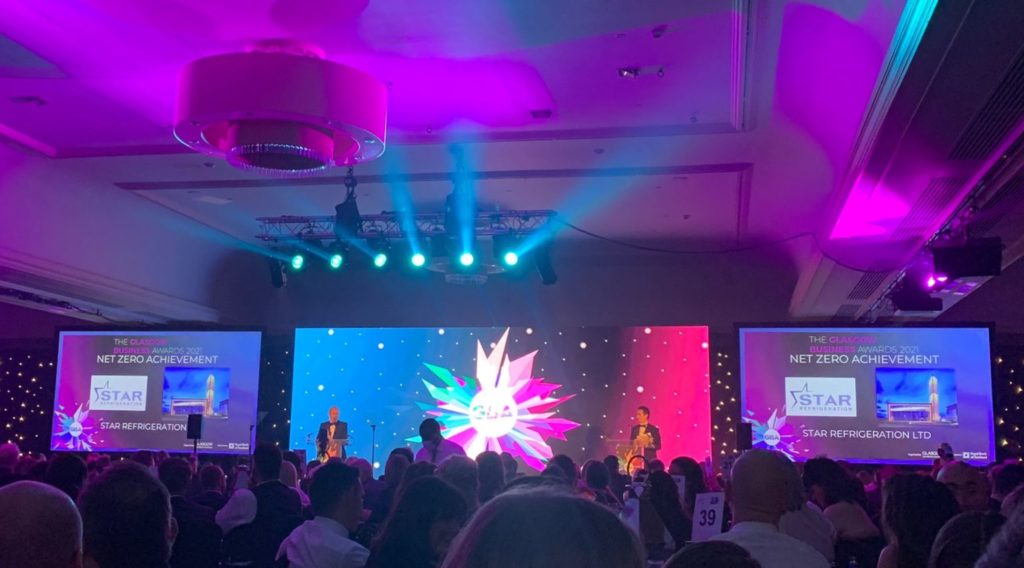 Star Refrigeration are pleased to announce that it has won an award at the prestigious Glasgow Business Awards, organised by the Glasgow Chamber of Commerce.
The company received the Net Zero Achievement Award for its work on the development of ground-breaking environmentally friendly industrial refrigeration and heating technology over the course of 50 years.
The Glasgow Business Awards ceremony which took place on October 7th at the DoubleTree By Hilton Glasgow Central honoured Glasgow city's top businesses and individuals.
The Net Zero Achievement Award recognised businesses which have successfully innovated through technology, services, products, internal operations or existing systems, raising their ambition and scaling their impact to support Glasgow city's ambitious target of Net Zero by 2030.
Star Refrigeration, who were just recently announced as Refrigeration Contractor of the year at the TCS&D Awards received the Net Zero Achievement award in recognition of the company's efforts to achieve Glasgow's net zero targets by 2030.
As a company whose foundation has been built on sustainable values in the development and utilisation of low carbon cooling and heating technologies. Star Refrigeration have helped hundreds of business across the UK reduce their carbon footprint and transition to net zero.
Dave Pearson, Group Sustainable Development Director said "This award goes all the way back to 1970 with various aspects of progress in fish factories, ice rinks, government, airline and bank data centres, car paint plants, the UKs first micro-processor controller with a modem for remote monitoring, often using half the energy for cooling of others. Colleagues have even lowered the cost of making a humble ice cube and removed high global warming potential working fluid R22 from coffee freeze drying. Achieving the impossible time and time again.
Of course the mission continues and has expanded to tackling emissions from heating for chocolate making, yoghurts, heating museums, heating a city from a fjord and most recently the already award winning district energy scheme at West Dunbartonshire delivered by Vital Energi.
If I take one thing forward from this, it is that aiming for net-zero is good for our clients' businesses not bad and we look forward to helping anyone who seeks a more sustainable outcome in their business process.''
The Glasgow Business Awards are firmly established as the leading awards ceremony for Glasgow business. The awards provide the ideal opportunity to promote business achievements, raise profile and recognise the success of forward-looking and innovative organisations.
To find out more about Star Refrigeration visit www.star-ref.co.uk